Specials Of The Month
Quick Tip: Go to Quick Search above to quickly find a product or service that fits your lifestyle.
A Better VISA
Click for more information...
Holiday shopping begins with your First Service VISA ® Credit Card!
The First Service Visa® has changed with more options to fit your lifestyle.
Switch for the Savings .... What card is in your wallet?
4.99%* APR
Introductory Rate
Transfer your high credit card balances to your new First Service Visa® and pay down the balances even faster with a LOW 4.99% introductory rate on purchases, balance transfers, and cash advances for the first 12 billing cycles after your Visa account is open! After that, your balance will revert to a low variable rate, currently 7.99% APR to 17.99% APR.

Apply NOW for this low introductory rate ... go to Quick Links above, select APPLY FOR LOAN and then click on the Credit Card/Unsecured application in Select Loan Type. You may also apply at any branch or simply call us at 614-836-0100.

FirstCU Online . . . Rewards Mall . . . Visa e-Statement . . . online access is available for your Visa card information, balance, transactions, payments and shopping rewards from a convenient Credit Card tab located in FirstCU Online.

CLICK HERE for additional information on current rates, rewards and other charges.
*Introductory rate is not available on Visa Platinum Secured card. We may end your Introductory APR and apply the prevailing non-introductory APR if you are 60 days late in making a payment. All loans on approved credit with a minimum $50 membership share savings account required. Rates will vary based on your credit worthiness. APR is variable and subject to change on the first day of the billing cycle quarterly to reflect any change in the Index and determined by the Prime Rate on the first day of each quarter as published in the Wall Street Journal "Money Rates" table to which we add a margin. Current rates are between 7.99% APR and 17.99% APR based on creditworthiness. The APR will not be greater than 18.00%. This introductory rate offer may be changed or withdrawn at any time.

A Credit Card tab is conveniently located in FirstCU Online for transaction information, rewards points and the Rewards Shopping Mall. A FAQ is also available for frequently asked rewards questions.
If you are looking for help in building (or rebuilding) your credit, visit your branch or call a Member Service Representative at (614) 836-0100 and select "3" to discuss this card option.
---
Credit Card Tips:
To learn more about factors to consider when applying for or using a credit card, visit the web site of the Consumer Financial Protection Bureau at
www.consumerfinance.gov/learnmore
.
Zero Fraud Liability Protection From Unauthorized Transactions is available on your card. You are protected from fraudulent use of your card, so you won't be held responsible for unauthorized purchases. Cardholders must notify First Service Federal Credit Union promptly of any unauthorized use. Certain conditions and limitations may apply to this protection.
---
All loans, including Visa, are available with approved credit based on current lending criteria. Information and rates provided are subject to change. For changes from the date of publication, contact First Service Federal Credit Union at 100 Main Street, Groveport, OH 43125 or call (614) 836-0100 locally or (800) 241-4575 during regular business hours.
Smart Auto Shopping Begins Here
Click for more information...
Imagine your perfect auto shopping experience… Imagine shopping for your next vehicle at your own pace, with no pressure to buy… until it feels right for you! Finding the right vehicle begins with your auto loan pre-approval from First Service.

• No application fee
• Lock in your rate with 30 days to shop
• Low, fixed rates with flexible terms
• Know how much you can afford before you shop

Auto Loan Preapproval . . . shop with confidence when you know your financing is already approved.
There is no application fee for an auto loan preapproval. Simply apply online at the link below, visit any branch location, call (614) 836-0100 during regular business hours or AnyHour Loans at 1-800-495-0981. We are here to lend a helpful hand and make your auto financing easy, quick and affordable!
Loans for autos, trucks, and motorcycles are available starting at great low rates with easy financing and convenient e-sign closings. Apply now or give us a call at 614-836-0100 during regular business hours or AnyHour at 1-800-495-0981.
Rates as low as 2.24%
on new or used trucks and autos
with checking relationship
2.42% APR * with terms to 66 months

* All loans on-approved-credit with qualified collateral. Rates starting as low as 2.17% APR are available based on credit criteria and model year. APR based on a loan amount of $20,000, at a rate of 1.99%, a term of 66 months and a $99 processing fee. Other rates and terms are available. Terms and rates may vary depending on credit conditions, model year, and value of collateral; sample rates may not be all inclusive based on specific requests and criteria. This offer may be withdrawn or changed at any time.
T he convenience of First Service financing is now available at hundreds of dealerships in Franklin County and throughout Ohio, with the same low interest rates that you would receive in any branch office. Ask your dealer for "First Service financing" and enjoy the benefits of First Service membership at the dealer's lot.



Quick Tip:

For other rates and terms, go to Quick Rates above.

Click Here
to Apply Online for an auto loan.
NEW! First Service FCU Mobile App Available…
Click for more information..

Experience convenient 24-hour account access from your Smartphone with our new and improved First Service FCU Mobile app.
With the new app, you will be able to check account balances, transfer funds, view alerts set up on FirstCU Online, and make bill payments. There is also a Person to Person (P2P) payment option.
The new First Service FCU Mobile app is available in the App Store on iTunes and Google Play Store. If you are currently using the old app, we encourage you to upgrade to the new one today! You can activate the new app through FirstCU Online; and use your existing FirstCU Online login credentials to sign on. Here's how:
• Login to your FirstCU Online account and go to Other Options => Mobile Settings .

• Fill out the information, click submit.

• Login to the browser version or the app version with your FirstCU Online (NetTeller) user ID and password.
For more information, simply give us a call at (614) 836-0100, visit us online at www.firstcu.com or stop by your local branch.
Celebrate the Season with Events and Special Offers!
Click for more information...
Happy Holidays from your Credit Union staff!
Celebrate Member Appreciation Friday at any of our offices on December 5th and December 12th! Enjoy giveaways, refreshments and member specials.
Holiday Club Accounts
Don't forget to get a head start on saving for next year. Your Holiday Club account helps to take the worry out of your holidays by allowing you to save for expenses on a regular schedule throughout the year.
To increase your savings, withdrawals are not allowed from this account during the year.
Holiday Helper Loans
Turn the items on your wish list into… a few of your favorite things!
Borrow up to $1,250 for a 12 month term
Interest rate as low as 9.99% (17.714% APR*)
Reduced Loan Processing Fee only $50 (a savings of $49!)
Apply today at one of our neighborhood branch offices, online, or give us a call at (614) 836-0100.
*All loans on approved credit. Interest rate as low as 9.99% with a 17.714% APR based on a $1,250 loan for 12 months with a $50 loan processing fee. No other discounts apply. Processing fee discount applies only to this Holiday Loan promotion and ends 12/24/14. Rates may vary according to credit qualifications. Federally insured by NCUA.
Dollar Dog New Year Party
Saturday, January 3 rd from 9 a.m. - noon.
Kids 12 and under are invited to a very special New Year Party! Be sure to mark your calendar - and plan to bring your children to join us for fun, games, prizes and treats during the first Saturday of the New Year!
Other Specials
Click for more information...
---
LifeStages Information. Information packages with helpful tips for life changing events such as getting married, having a baby, buying a home, attending college or retiring are available upon request. Just ask for a LifeStages kit during your next visit for helpful information on your life changing event.
$10 Member Referral Coupons. Members are eligible to earn $10 when their family, friends, or co-workers open a new membership account, plus one other service, with a Member Referral Coupon. To earn your $10, share the benefits of First Service by referring your family, friends and coworkers to open their accounts.

Member Referral Coupons are available in "Quick Links" above or during your next lobby visit.
---
FREE ATMs

Travel with the convenience of free ATMs nationwide!

First Service has an extensive network of
FREE ATMs
, starting with our local branch offices. In addition, ATM withdrawals from First Service accounts are free at all Fifth Third Bank owned machines nationwide (other than Speedway locations).
This includes over 1,500 ATMs across the country for your convenience!
Free cash withdrawals are also available at US Bank
branch
locations in Ohio.
---
Free BillPayer Demo
This video provides a BillPayer Overview with guidance for using Payment Options, Payment History, Payment Calendar, Adding a Payee, e-Notifications/Alerts, eBills, and How to Sign Up.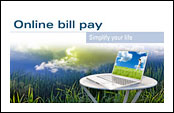 Quick Tip: BillPayer is FREE! To enroll now Simply Click on the FirstCU Online Account Access button at the top of this page.
---
---
Let's Get Started
....
first time auto buyers ages 18-24!
The
Let's Get Started
program for young adults provides an excellent opportunity for first time auto buyers ages 18-24 plus a
free one-year membership to the Credit Union AUTO CLUB
!
In addition to a great rate on your first time auto loan, you will have advantage of the
Credit Union Auto Club
for roadside assistance from little incidents like being locked out of a vehicle to bigger troubles like needing a tow truck. When its time for your first vehicle,
Let's Get Started
at your credit union! Give us a call, apply online, or stop by any branch office.
See Credit Union Auto Club information in consumer loan section and ask for this special with your
Let's Get Started
loan application. The Credit Union Auto Club membership offer may be changed or withdrawn at any time; first time auto loans may require a co-signer to qualify.
---
---
Safety Tip
Please update your mobile number with your credit union. To protect your account, we monitor unusual ATM, debit and credit card usage for possible fraudulent activity. We may need to contact you regarding certain activities on your account, such as a sudden change in location or an unusual string of purchases from your normal pattern use. If we need to reach you, we will not ask for your card or account number, but may ask you to verify a specific transaction.
---
e-Sign
Getting the money you need ... just got faster!
We are now pleased to bring you the option of receiving and signing your loan documents quick and easy by secure e-mail. DocuSign is an option that will save time in completing your loan documents, with most of our auto and personal loans now available for this convenient service ... at no extra charge to you.

Great terms and easy processing ... even more reasons to finance with First Service!
---
Reloadable Debit Cards


Now Available

.... First Service is offering reloadable debit cards for your travel, for shopping, for student expenses, and any time that you don't want to carry cash.

Reloadable MasterCards® are accepted everywhere that merchants accept MasterCard debit transactions and are $5.99 each to purchase, with a $2.00 reload fee.
---
MasterCard Gift Cards
First Service can take the hassle out of your gift giving with MasterCard Gift Cards now available in our lobbies. Buy one or a supply for all your special occasions like Mother's Day, Father's Day, graduation, birthdays, holidays..... accepted at MasterCard merchants worldwide. MasterCard Gift Cards (non-reloadable) are $4.99 each. Due to this change, we no longer sell Travelers Checks.

---
Coins for Kids .... thank you for helping our kids
First Service is a proud sponsor of Children's Miracle Network Hospitals (CMNH). At each teller window, you will find a Coins for Kids container. When you contribute your change, we donate this to CMNH for the benefit of Nationwide Children's Hospital here in Columbus.

**For a VISA® Card with 1% of the purchases donated to CMNH by First Service for the benefit of Nationwide Children's Hospital, please see the VISA section above!**
---
Go Green

... and Help

Save 20 Trees


Go Green and help us Save 20 Trees when you sign up for e-statements. First Service uses over 156,000 pages of paper each year to produce member statements, or an equivalent of almost 20 trees. You can help us Save 20 Trees when you Go Green and sign up for e-Statements which are available online, quickly and conveniently the first day of every month, along with 12 months of statements stored for your easy access.

Quick Link: Just Click on the FirstCU Online Account Access button above to go to FirstCU Online for your account e-Statements. And, don't forget to sign up for Visa e-Statements behind the Credit Card tab at FirstCU Online.

Enjoy the convenience of free online statement access the first day of every month . . . available and printable . . online . . at any time . . with no fee . . from any computer location!
---
IdentitySecure
On the average, every 2.7 seconds someone loses their identity.* Identity theft is a complicated crime and you need a comprehensive solution. Identity Secure ® provides access to benefits and services that help prevent, detect, and resolve identity theft-related issues.
Prevention: Credit/Debit Card, Social Security Number and Account Monitoring
Detection: Triple-Bureau Daily Credit Monitoring and Credit Information
Hotline
Resolution: Members can protect their assets up to $10,000 in loss recovery
protection for covered expenses; Identity Fraud Support Service;
Card and Documention Registration; Lost/Stolen Credit Card
Assistance; and Fraud Assist Toolbox
To print an IdentitySecure Enrollment Form, or to learn more about the costs and benefits of this Identity Theft Protection program, please click here.
IdentitySecure is a service provided by Trilegiant Corporation. Membership representatives are available to answer your questions Monday through Friday 9AM to 8PM, EST, and Saturday, 9AM to 5PM, EST, at 1-866-990-7328 .
All IdentitySecure services and benefits are provided by Trilegiant Corporation in conjunction with Trilegiant Insurance Services, Inc. and Alliance Marketing Association. Trilegiant Insurance Services, Inc., does not receive any compensation from the sale of the identity theft insurance benefit included as part of the IdentitySecure services. Any part of the IdentitySecure service may be modified or improved at any time and without prior notice. IdentitySecure is a registered service mark of Trilegiant Corporation. Credit Alert is a registered service mark of Affinion Publishing, LLC. *Javelin Strategy & Research. 2012 Identity Fraud Survey Report.
---
MyCreditUnion.gov and Pocket Cents Financial Literacy Tools
Here are two updated web sites with information on credit reports, credit scores, preventing identity theft, buying a car, purchasing a home and avoiding scams and fraud.

MyCreditUnion.gov - redesigned with fifteen different financial tools and calculators, including college savings, student loans, mortgages and retirement savings. Users also have access to a personal budgeting worksheet.

Pocket Cents - a financial literacy tool for all age groups which provides personal finance lessons and tips for groups including youth, tweens, teens, young adults, families, seniors, parents, and educators.

We invite teachers, parents and members to bookmark these helpful sites for their consumer financial research needs.

Also visit our Free Online Financial Library by selecting the link in Quick Links above.

The First Service Federal Credit Union web site links to third-party web sites on the Internet. First Service Federal Credit Union provides links to these sites as a convenience to its members. The inclusion of a link does not constitute endorsement by First Service Federal Credit Union. The linked sites are not under control of First Service Federal Credit Union, thus First Service Federal Credit Union is not responsible for the availability or content of any linked site.