First Service Visa® Credit Card
A Better VISA® Choice is Here!

First Service has VISA® options for your everyday purchasing needs with a 3.99% APR Introductory Rate!*
Your card can be used for purchases, balance transfers, and cash advances! In addition to the introductory rate, you'll enjoy:
No Balance Transfer Fee for the first three billing cycles for new accounts

No Annual Fee

No Application Fee

Easy and Convenient iPay
Transfer your higher credit card balances to your new First Service VISA and pay down the balances even faster with a LOW INTRODUCTORY 3.99% APR for the first 12 billing cycles on purchases, balance transfers and cash advances.  After the first 12 billing cycles from the time your VISA account is open, your balance will revert to a variable rate, currently 9.49% to 17.99% APR. 
To change a PIN on an existing card - 1-888-886-0083
*All loans on approved credit with a minimum $5 membership share savings account required. Rates will vary based on your credit worthiness. APR is variable and subject to change on the first day of the billing cycle quarterly to reflect any change in the Index and determined by the Prime Rate on the first day of each quarter as published in the Wall Street Journal "Money Rates" table to which we add a margin. Current rates are between 9.49% APR and 17.99% APR based on creditworthiness. The APR will not be greater than 18.00%. This introductory rate may be changed or withdrawn at any time. Introductory rate not available on VISA Platinum Secured card. We may end your Introductory APR and apply the prevailing non-introductory APR if you are 60 days late in making a payment. See additional information on current rates, rewards and other charges.
Credit Unions For Kids© Card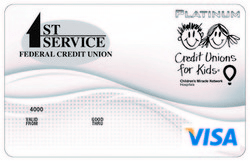 HELP KIDS EVERY TIME YOU USE THE Credit Unions for Kids© Card
The First Service Credit Unions for Kids VISA will give you a unique opportunity to help local children every time you use this card. First Service will donate 1% of all purchases on this card to Children's Miracle Network Hospitals (CMNH) for the benefit of Nationwide Children's Hospital in Columbus.
It's simple, just request the First Service Credit Unions for Kids© Card at the time of your VISA application.
VISA® Platinum Rewards

Earn Rewards For Your Everyday Purchases
Earn unlimited points to redeem for travel and merchandise with a VISA Platinum Rewards card.
Great Introductory Rate

No Annual Fee

Earn 1 Point for Every Net $1 Spent

No Caps or Limits on the Points You Can Earn

You Have Five Years to Redeem Your Points

Visa e-Statements Available

Online Account Access
CU Rewards 



See Where Your Points Can Take You!
Earn 1 point for each net dollar you charge.  There's no limit on the points you can accumulate.  Redeem points for your choice of rewards from the CU Rewards Mall.
OR take advantage of our Points 2 Cash Program to earn 1% Cash Back on Purchases.**
** Points 2 Cash: Earn 1% cash back rewards on purchases. Minimum to receive reward is 5,000 points which would convert to $50 (1%) and can be deposited to member Share Savings or Checking account; or as a payment towards member First Service VISA account. Receive 1 point for every $1 spent with First Service VISA credit card. 1% cash back rewards points can be redeemed in 5,000 increments once per month (12 times per year). Account must be in good standing at time of payout. Cash back offer subject to change without notice.
You will find a Credit Card tab conveniently located in FirstCU Online for transaction information, rewards points and the Rewards Shopping Mall.  A FAQ is also available for frequently asked rewards questions.
If you have any questions about your points balance or rewards card during the transition time, you can contact Member Services at 800-637-7728.
To enjoy Platinum Rewards, just request a Rewards Card at the time of your application. First Service VISA Platinum Low Rate, VISA Platinum Credit Unions for Kids, and VISA Secured are non-rewards cards.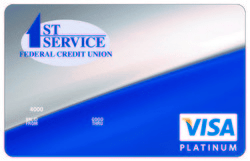 VISA® Platinum Low Rate
Low Rates and No Hidden Fees
Enjoy the everyday convenience of this non-rewards card designed for members who are seeking low rates with no hidden fees instead of rewards.
For the convenience of a low rate card, just request a Platinum Low Rate Card at the time of your application.
VISA® Platinum Secured

Get Started Building Your Credit

If you are starting to build credit, or have had some problems and need to re-establish your credit, we are here with the option of an everyday convenience card secured by your First Service shares. This is an option to consider before using a higher cost card. If you are looking for help in building (or rebuilding) your credit, visit your branch or call a Member Service Representative at (614) 836-0100 and select "3" to discuss this card option.

The 1st CU VISA App is now available for your First Service VISA credit cards!
Get balance and transaction information

Activate new cards

Make payments

Report lost or stolen cards

This app is separate from our existing First Service Mobile app, and is only for our credit card products.  
Online access is available for your VISA card information, balance, transactions, payments and shopping rewards from FirstCU Online.  Simply select the convenient Credit Card tab.
Credit Card Tips:
 To learn more about factors to consider when applying for or using a credit card, visit the website of the Consumer Financial Protection Bureau at 
www.consumerfinance.gov/learnmore
.
Zero Fraud Liability Protection From Unauthorized Transactions is available on your card. You are protected from fraudulent use of your card, so you won't be held responsible for unauthorized purchases. Cardholders must notify First Service Federal Credit Union promptly of any unauthorized use. Certain conditions and limitations may apply to this protection.
All loans, including Visa, are available with approved credit based on current lending criteria. Information and rates provided are subject to change. For changes from the date of publication, contact First Service Federal Credit Union at 100 Main Street, Groveport, OH 43125 or call (614) 836-0100 locally or (800) 241-4575 during regular business hours.