Let's Get Started Young Adult Program
Let's Get Started ® is a First Service program geared toward young adult members from age 18 to 24 to help you focus on the financial services relevant to your lifestyle.
First Service is here to help you get started in the right direction for financial success. No matter what path you decide to take — college, a new job, or the military — we can provide you with financial products and services to fit your needs and help you stay in touch with your money.
Share Savings Account

Classic Checking

Computer Loans

First Time Auto Loans

Free Online Account Access

Free Mobile Account Access

Network of ATMs Nationwide

Free e-Statements
Online Financial Guidance
---
MORE FINANCIAL LITERACY TOOLS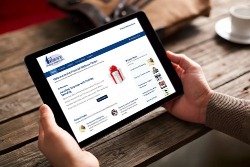 MoneyEdu
MoneyEdu is your PERSONAL Financial Wellness Center. Sign in today to get started.

Personal finance doesn't have to be boring! Click on the On Your Own picture (left) to learn about a range of topics, including how your credit score is calculated, how to make better money decisions, and more.
And don't forget to...
As your credit union, we're thrilled to provide you with this collection of fun, insightful, and super-helpful articles packed with tips on college life. Inside, you'll find budgeting tools, creative ways to save on books, and pointers for paying down that student debt. And, since we want you to pass your classes with flying colors, we've included studying tips, memory hacks and more!  It's your guide to everything college.
Pocket Cents is a financial literacy tool for all age groups which provides personal finance lessons and tips for groups including youth, tweens, teens, young adults, families, seniors, parents, educators and service members.
MyCreditUnion.gov has fifteen different financial tools and calculators, including college savings, student loans, mortgages and retirement savings. Users also have access to a personal budgeting worksheet.
$5.00 minimum Share Savings Account required for membership with $25 required to open a checking account. 
This CREDIT UNION IS FEDERALLY INSURED BY THE NATIONAL CREDIT UNION ADMINISTRATION. To check out the National Credit Union Administration's site for financial education click here  MyCreditUnion.gov