With free BillPayer, you can pay all of your bills online… the safe and easy way!  BillPayer allows you to pay your bills directly from your checking account, at any time that is convenient to you, eliminating the need to write a check or buy a stamp. BillPayer is provided free with all First Service checking options. All you have to do is register to start enjoying the convenience!
Get started today! Simply login to FirstCU Online, select the Bill Payment tab on the landing page and follow the prompts.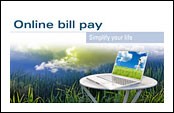 BillPayer Demo Video
This video provides a BillPayer Overview with guidance for using Payment Options, Payment History, Payment Calendar, Adding a Payee, e-Notifications/Alerts, eBills, and How to Sign Up.
A Notice for BillPayer Users: If you notice that a payee has changed from Electronic to check in your BillPayer account, if may be due to an incorrect address listed for the payee. Please click on Payees > View Payees > then Edit to view the Payee Address. You should refer to a recent statement or bill from the payee to verify the address is correct. Incorrect addresses may result in delayed payments.